Erin Brockovich Exposes WV's Eco Terrorists & Offers Advice on How To Protect Yourself
Submitted by FluxRostrum on Wed, 01/15/2014 - 22:03
Erin Brockovich and team came down to Charleston on Monday to help people protect themselves from the corporate eco terrorists that have endangered over 300k people the Charleston, WV and 8 surrounding counties. The "spill" is not over as the chemical is currently making it's way down the Kanawha River to the Ohio River and on down the Mississip. Cities getting their water from these rivers down stream are closing their intake valves and hoping it skates past them. However no one really knows how long the MCHM (4-Methylcyclohexanemethanol) has been poisoning the drinking water of all these cities.
The video will start playing at the bottom of this post.
It's 2 hours so I gave you some stuff to read while you watch/listen.
A strange thing happened the morning following the this town hall event. I drove out to WV American water and took some basic footage of the exterior of the building and then went looking for the Freedom Industry's storage facility. Before arriving there I put a new tape in the camera and then I proceeded to take some really good footage of licorice smelling fumes/smoke coming from a truck that was hooked up to the remaining tanks. It was much worse than the after thought photo I took.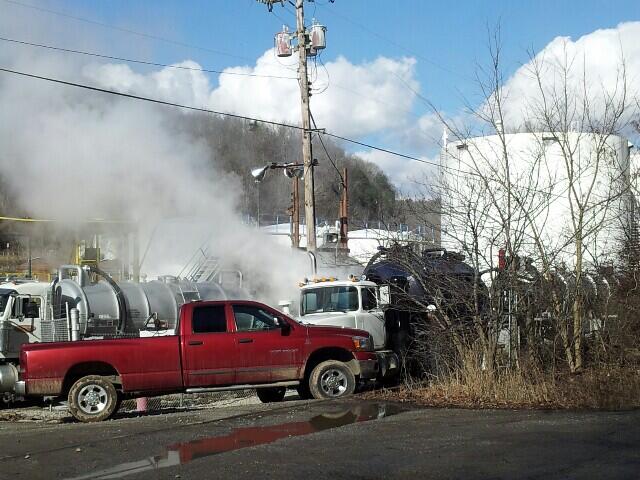 The workers there, about 10 of them,
were not wearing any protective gear or masks to protect themselves from the fumes
Then I went across the river and got some great long shots of the facility spewing massive amounts of the licorice smoke. Then I went to a water distribution site in Elkview where I was informed on camera by the volunteer fire fighters that were spending their time handing out a semi truck full of water a day from that site that FEMA wasn't providing any water and Red Cross was only sending box lunches to the volunteers that were passing the water out ... and that's all. The water they were passing out came from corporations capitalizing on the spill by making tax deductible donations of their BRANDED products... in other words these benevolent companies get Great Publicity and and a Tax Write Off for their kindness while your government relief agencies... do nothing but accept your cash contributions.
NONE OF THOSE GREAT THINGS WERE RECORDED. I have no answer as to why. I know that while I thought I was recording the camera WAS on, the image WAS in my LCD screen and the red REC indicator WAS on. I know for a fact that while talking with the police officer that did not want to be on camera I looked down to the camera that was pointing at the sheriff logo on his car and the RED LIGHT WAS ON to get the audio... nothing recorded. When I put the new tape in the camera prior to going to Freedom, I "burned some tape" off the front of the roll because sometimes it doesn't record well for an minute or so... That was recorded just fine.. Nothing from the 3 locations that I filmed after that recorded anything. Last night I put the same tape in and recorded on it just fine. I would love to cry conspiracy but I don't think that's really possible. It's just Fucking Weird and I'm sorry because I got a lot of good footage that you can't see. :~(
It's clear that they are trying to put this behind them more than they are trying to clean it up and keep people safe. Below I go over the "Flushing" procedure that is currently being distributed to some of the affected areas.
Another important thing to note is that they are saying that level of contamination is acceptable for flushing the system now... but the chemical is not gone and in some cases you could be flushing with water that is more contaminated than what is in your system because the contamination level is not evenly distributed, there are pockets of bad and not so bad flowing through. Also, the chemical in the water was initially misdiagnosed and I hear that the water was treated initially for high glycol levels with a chemical that would be having unknown reactions with the 4-Methylcyclohexanemethanol coal "cleaning" chemical that is the actual contaminant.
If you must Flush take a look at this Ugly Ass Water that you'll be putting into your system and Watch This if you still want to do it.
For Continuing Local Independent Grass Roots Coverage of the Spill Go To WV Water Crisis
Report your adverse reactions to Erin Brockovich's Health Map
A most excellent recap of the facts as we know them
LIGHTEN UP

Mo'Fo' Gleeaned from the web
Freedom Industries executive a two-time convicted felon
Freedom Industries, the company [eco-terrorists] responsible for contaminating the water of 300,000 Kanawha Valley residents, was founded by a two-time convicted felon, benefited from the 2009 federal stimulus and at least two of its executives have longstanding ties to the Charleston business community. Since the chemical spill on Thursday, Freedom Industries executives have entirely avoided media requests, except for a brief news conference Friday night... In 2008, Freedom Industries secured a contract to distribute a line of products called Talon that are used as a binder in coal processing, according to a news release issued at the time. Talon is made by Georgia-Pacific Chemicals LLC. Georgia-Pacific is owned by the billionaire industrialists Charles and David Koch.
West Virginia Spill Prompts Drive for Tougher Regulations
A chemical spill that left 300,000 people in West Virginia unable to drink their water is reviving calls for more stringent regulation of thousands of chemical storage sites in the U.S., especially those near water supplies. The Freedom Industries Inc. complex in Charleston that leaked was subject to a patchwork of federal and state regulations that allowed hazardous materials to be stored less than two miles upstream from a treatment facility for drinking water.